Phnom Penh, Cambodia, 27th November 2019. CPBank collaborated with World Savings and Retail Banking Institute (WSBI) to organize a workshop on ''Women & Finance'' at Olympia City Hotel, Cambodia. This forum is focused on discussing about the national financial to promote the women right in financial sector and gender equality issue through of policy strategy, technology and financial education  which can help to achieve gender equality and reduce the rate of women who have not yet received formal financial services as part of the National Financial Strategic Plan 2019-2025.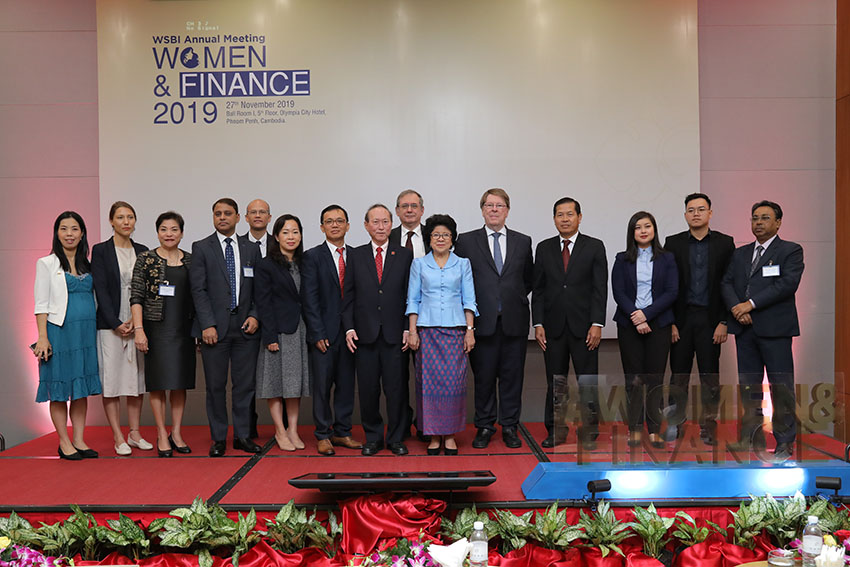 This event also provided a forum for speakers and stakeholders to share knowledge on how to promote women's rights in financial inclusion. Participants included H.E. Neav Chanthana, Deputy Governor of National Bank of Cambodia; Neak Oukha Dr. Pung Kheav Se, Chairman of the board of CPBank; Mr. Toch Chaochek, Chief Executive, CPBank; and Mr. Chris De Noose, Managing Director, WSBI.  Stakeholders also taking part in represented bank subsidiaries, representatives of the finance ministry, and representatives of banking and financial institutions and financial institutions in the region, including banks from Indonesia, India, Sri Lanka, and Bangladesh.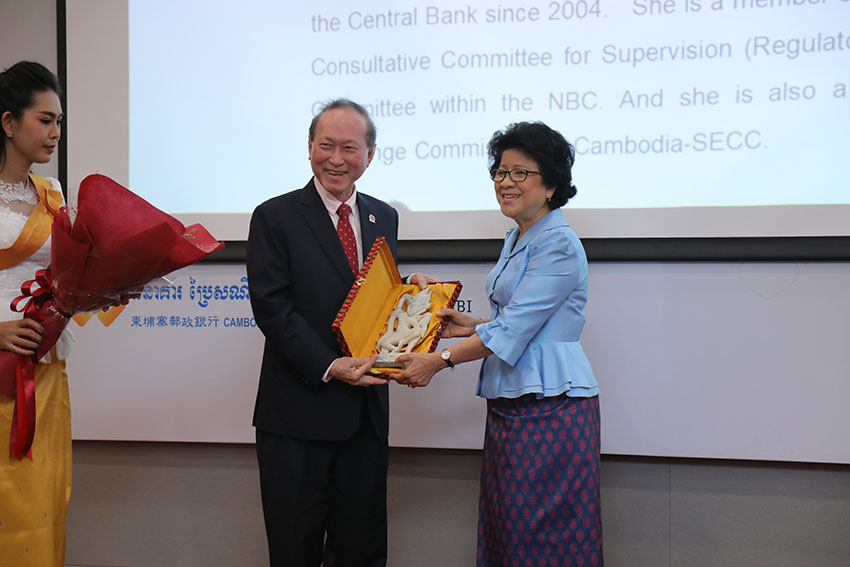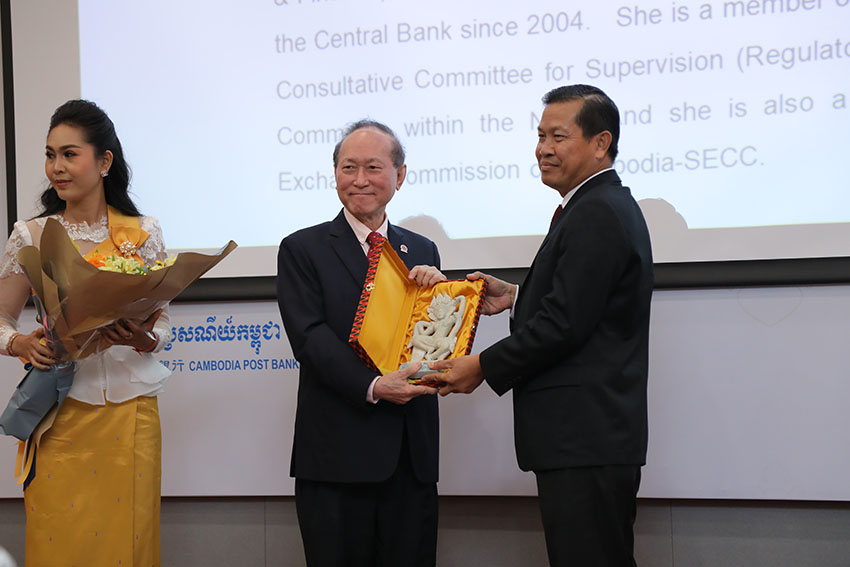 H.E. Neav Chanthana said: According to Excellency Neav Chanthana, Deputy Governor of the National Bank of Cambodia "The National Financial Inclusion Strategy 2019-2025 is a policy tool aims at achieving stable and effective financial system as well as diversified inclusive financial market to address the domestic demand for financial services, support the sustainability of economic growth, enhance the women empowerment, achieving gender equality, increase people's incomes and reduce poverty".
"The strategy also provides a direction for the Government, development partners, and the private sector to make concerted efforts and focus on areas that need immediate intervention. The National Bank of Cambodia is ready to coordinate the implementation of the action plans and ensure cooperation between all stakeholders to achieve the financial inclusion objective of increase access to quality formal financial services, reduce the financial exclusion of women by half from 27% to 13%, and increase usage of formal financial services from 59% to 70% by 2025 as well as improve household welfare and support economic growth", she added.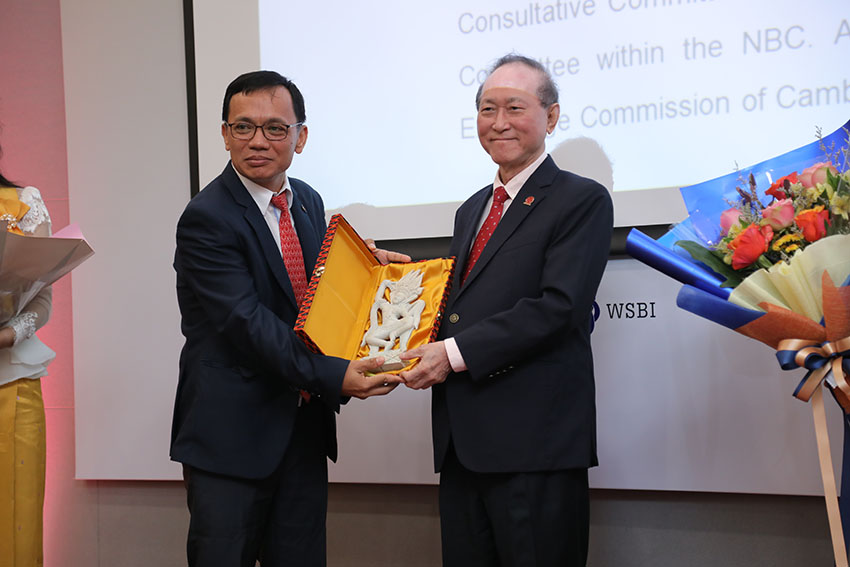 Neak Oukha​ Dr. Pung Kheav Se said: "Achieving gender equality is also part of the Royal Government of Cambodia's Rectangular Strategy for growth, employment, equity, and efficiency. The Government recognizes that greater participation by women in the economy will accelerate the attainment of national goals, such as sustainable and inclusive economic development with a fair share for women."
Christ De Noose said: "Empowering people, especially women, in their financial and work lives opens their world, improves their well-being and brightens their future. WSBI sees financial inclusion as fundamental to personal self-worth, self-help and further contributes to the overall economy."
Congratulations to Neak Oukha Pung Kheav Se for an honorary Doctorate Degree in Business Administration to recognize his great contribution to Cambodia's business development.
On 21st November 2019 Samdech Akka Moha Sena Padei Techo HUN SEN, Prime Minister of the Kingdom of Cambodia conferred an honorary doctorate degree in Business Administration to Chairman of the board of CPBank to celebrate for Indradevi building on Royal Academy of Cambodia to recognize his great contribution to Cambodia's business development.
National Career and Productivity Fair 2019 is the largest Career fair of the year is opens for employers, candidates, employee and fresh graduate students to get many career opportunities.
CPBank joins this Career Fair with National Employment Agency of the Ministry of Labor and Vocational Training in collaboration with the Union of Youth Federations Cambodia and the Garment Manufacturers Association in Cambodia (GMAC) for two days, Saturday-Sunday, November 02nd-03rd, 2019 from 8 am to 8 pm at Koh Pich Exhibition.
In addition, to get career opportunities from CPBank, visitors will receive more information and every banking products such as loans, deposits, account opening, money transfer, convenient mobile banking and especially everyone will get a chance to win the gift with playing games.
Please come and visit our CPBank Exhibition Booth for many career opportunities and every product's knowledge. Note: Please bring (CV) for a Walk-in Interview.
For more information, please contact 023 260 888 or find us on CPBank's Facebook page.
Telegram: https://t.me/s/cpbankplc
Youtube: https://bit.ly/2N0RnFf
Linkedin: https://bit.ly/2qa9lfC
Following the vision of CPBank to enriches lives and fulfills the growing aspirations of the Cambodian and offers financial services nearby costumers. CPBank would like to inform to the public for grand opening new CPBank branch in Peam Ro District, Prey Veng Province. It also remarks about the CPBank potential and reputation as branch expansion in the future.
By the way, Peam Ro district branch is operating with Building 3rd floor, standard branding and modern equipment, large parking space, comfortable zone, safety, professional staff and very responsible for the job.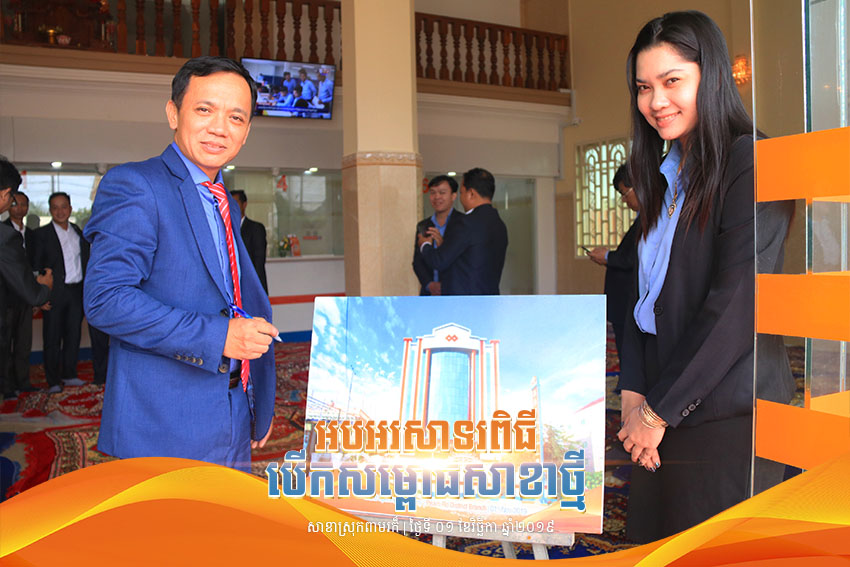 The new branch provides to every customer in Peam Ro, as well as the costumers living nearest, with every banking products such as loans, deposits, money transfers, mobile banking and ATM 24/7.
On this occasion to celebrate grand opening Peam Ro district branch, every customer opening a bank account will get $1 and $10 for fixed deposit account.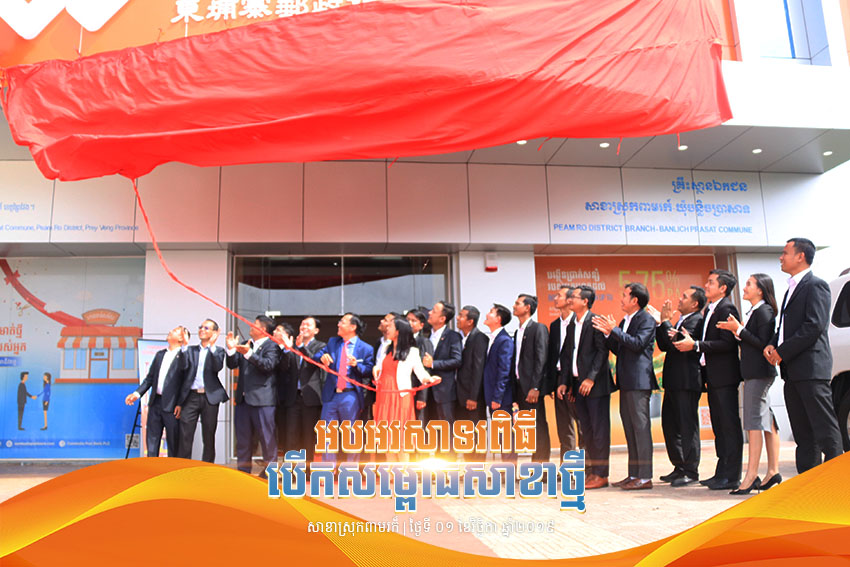 We are glad to invite all customers to explore our modern banking products and services at Peam Ro District Branch located to Preaek Reang Village, Banhlich Prasat Commune, Peam Ro District, Prey Veng Province. For more information, please contact 023 260 888 or Find us on CPBank's Facebook page.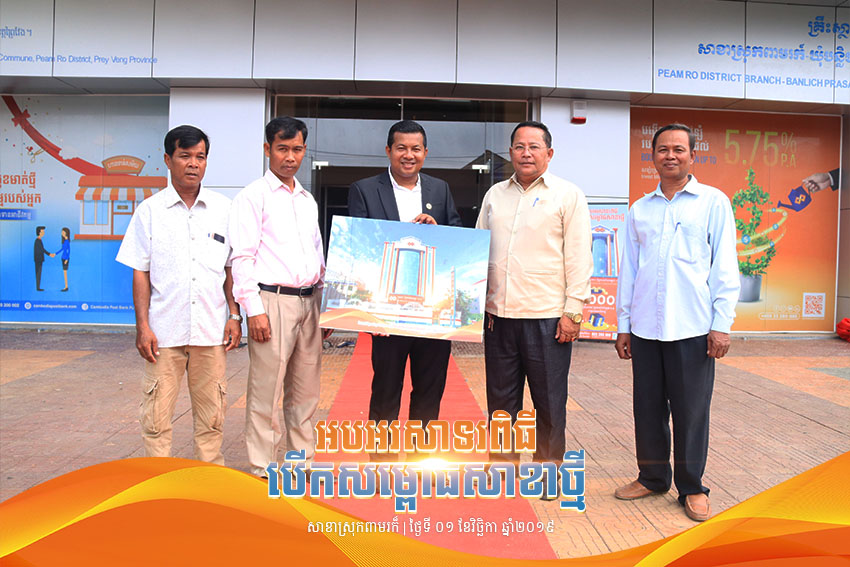 Telegram: https://t.me/s/cpbankplc
Youtube: https://bit.ly/2N0RnFf
Linkedin: https://bit.ly/2qa9lfC
Water Festival is a traditional Khmer festival that relates to the history of the Khmer army in defend to protect the territorial integrity and remains of ancient longevity for the next generations. Nowadays, the Water Festival is celebrated every year and is considered one and the important one of the major among other national culture festivals.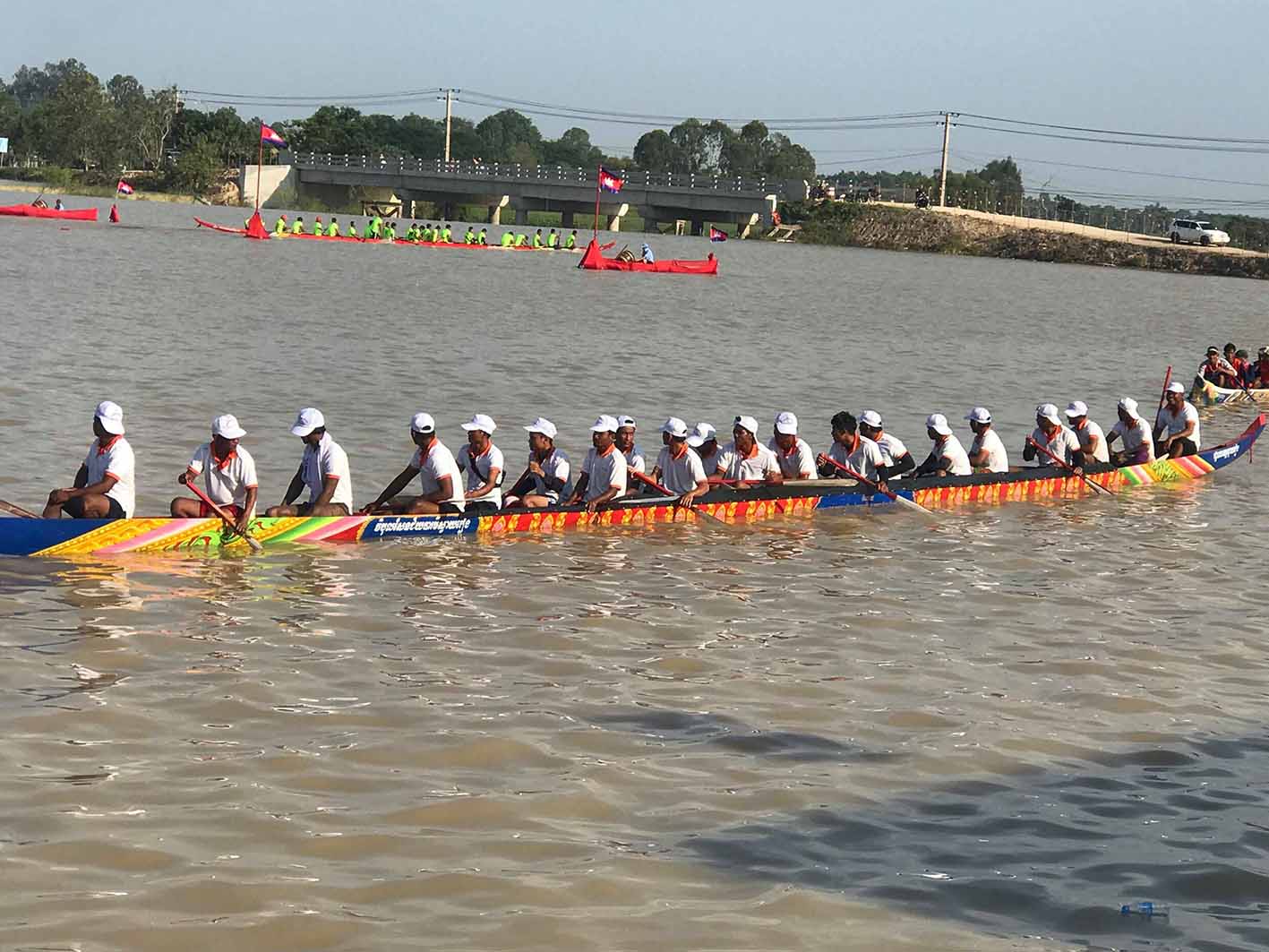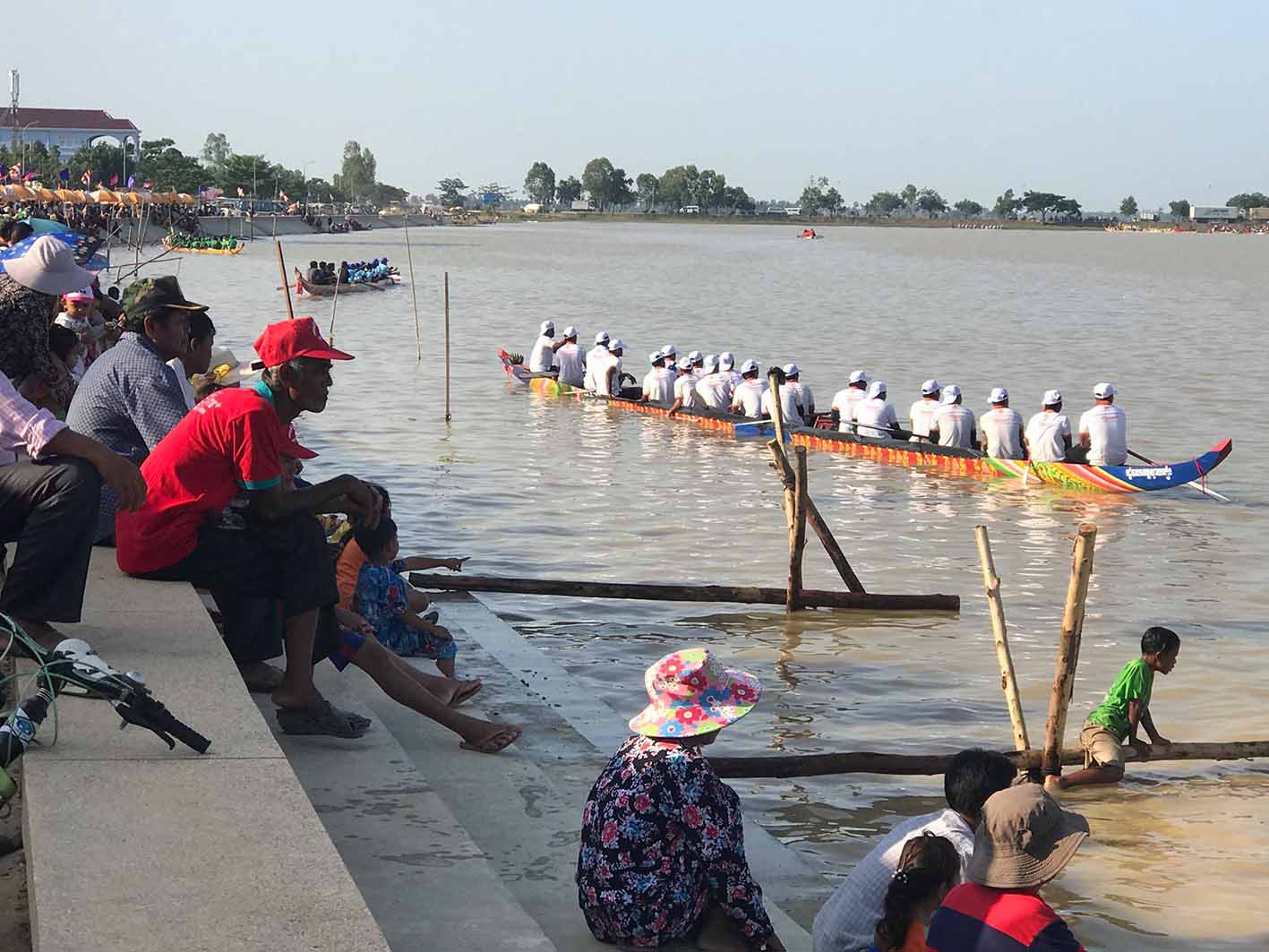 Also in Svay Rieng Province will celebrate Water Festival on 27th October 2019 recently, with the boat racing at Veiko River. The committee will select the winner to attend the national final racing in Phnom Penh City.
On this occasion to celebrate Water Festival, on 27th October 2019, CPBank Svay Rieng provincial Branch is honored to collaborate with Svay Rieng provincial hall directed by Mr. Men Vibol (Svay Rieng province chief) to celebrate Water Festival by sponsor 50 T-shirts and 50 environment bags to Svay Rieng provincial hall for supporting of boat team.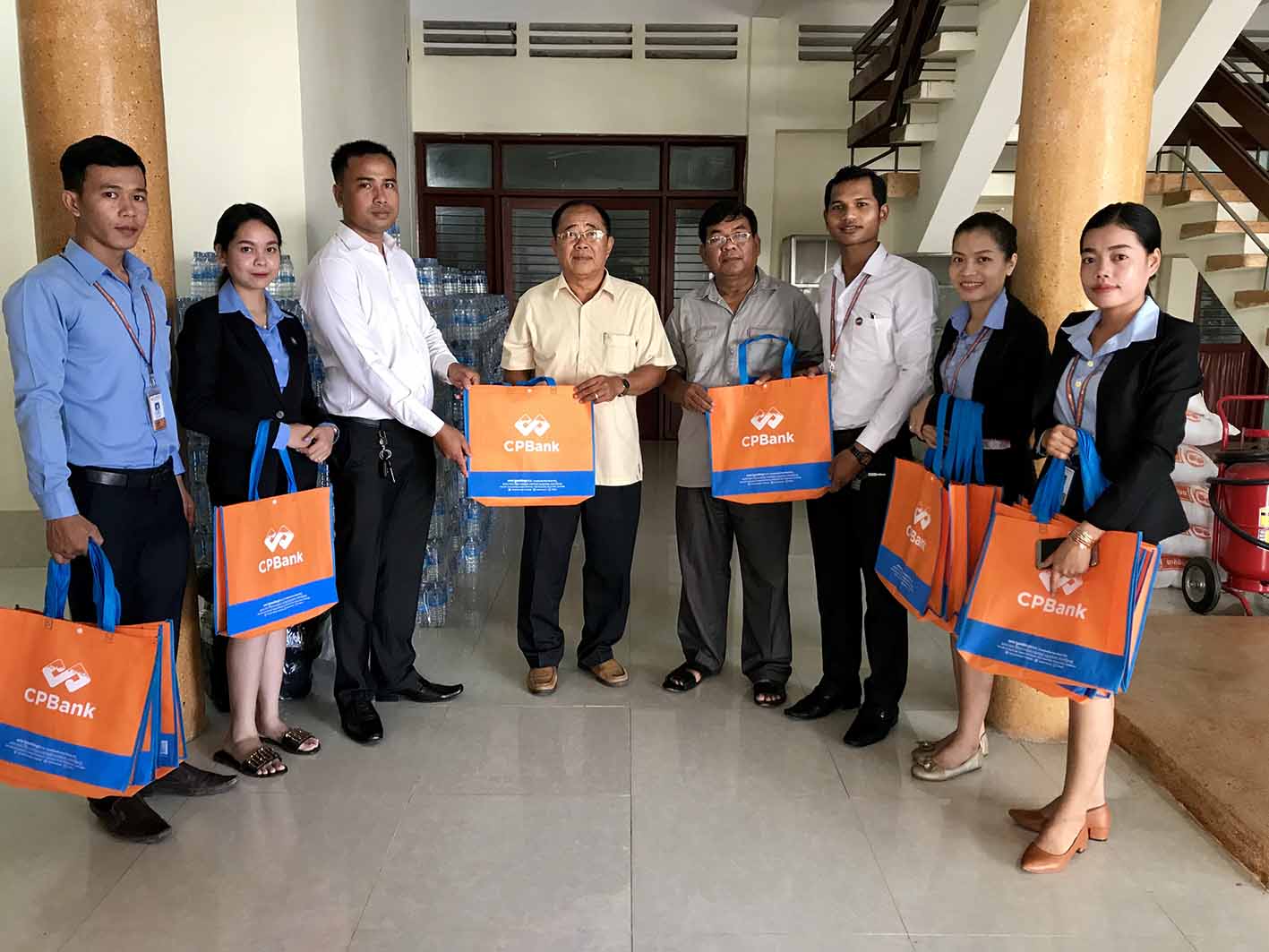 On the evening of October 17th, 2019; CPBank's Management team held a friendly football match with NBC's team at The King Sport Sensok.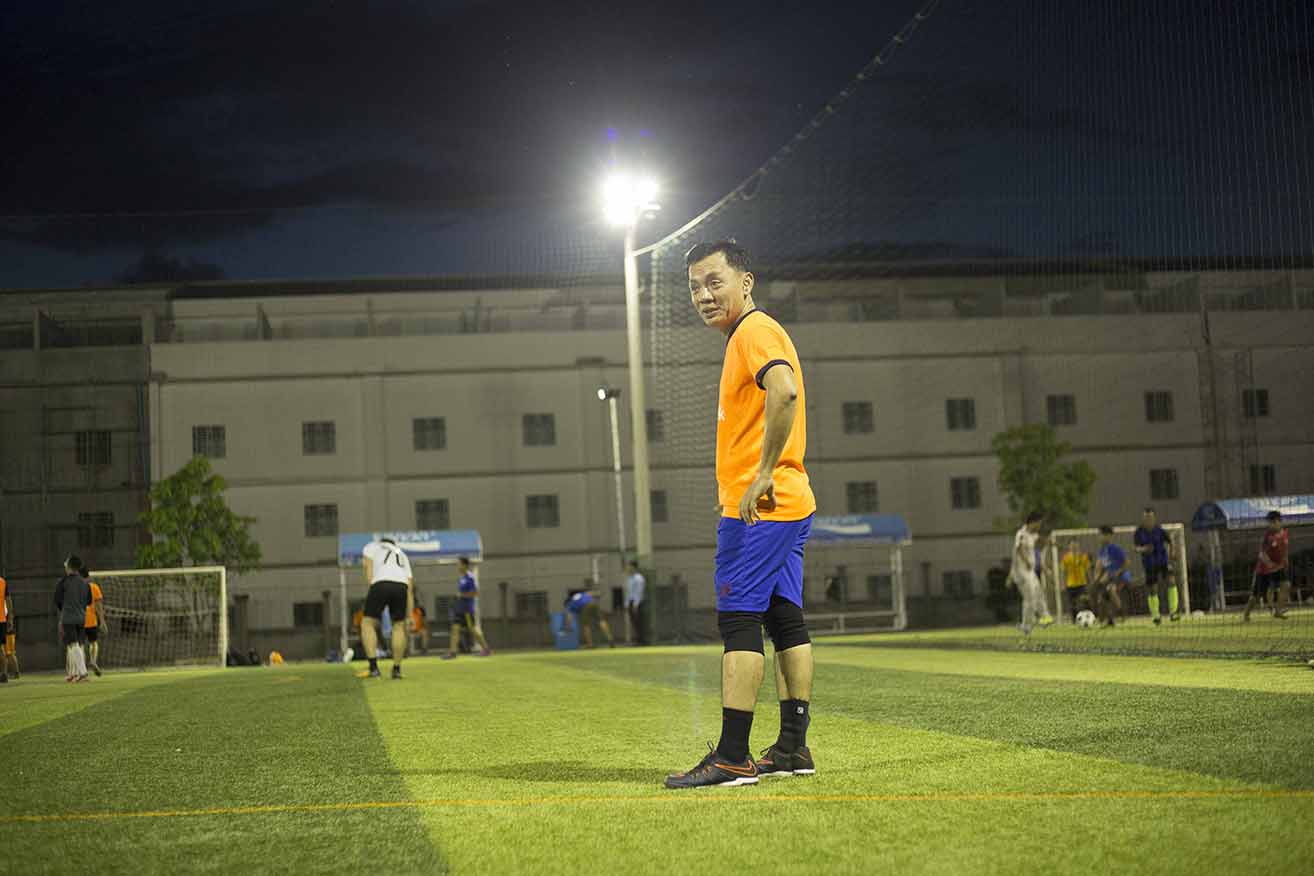 The friendly football match takes 90 minutes that aims to keep friendship and cooperation between CPBank and NBC, healthy and fully supporting football in Cambodia. CPBank really appreciated and thanks to NBC Team for joining the friendly match.
Sport brings healthy, solidarity and a long friendship. CPBank fully supports on sport by hosted the CPBank CUP 2019 event was attended by the players of the Head Office and Branch's staff of CPBank.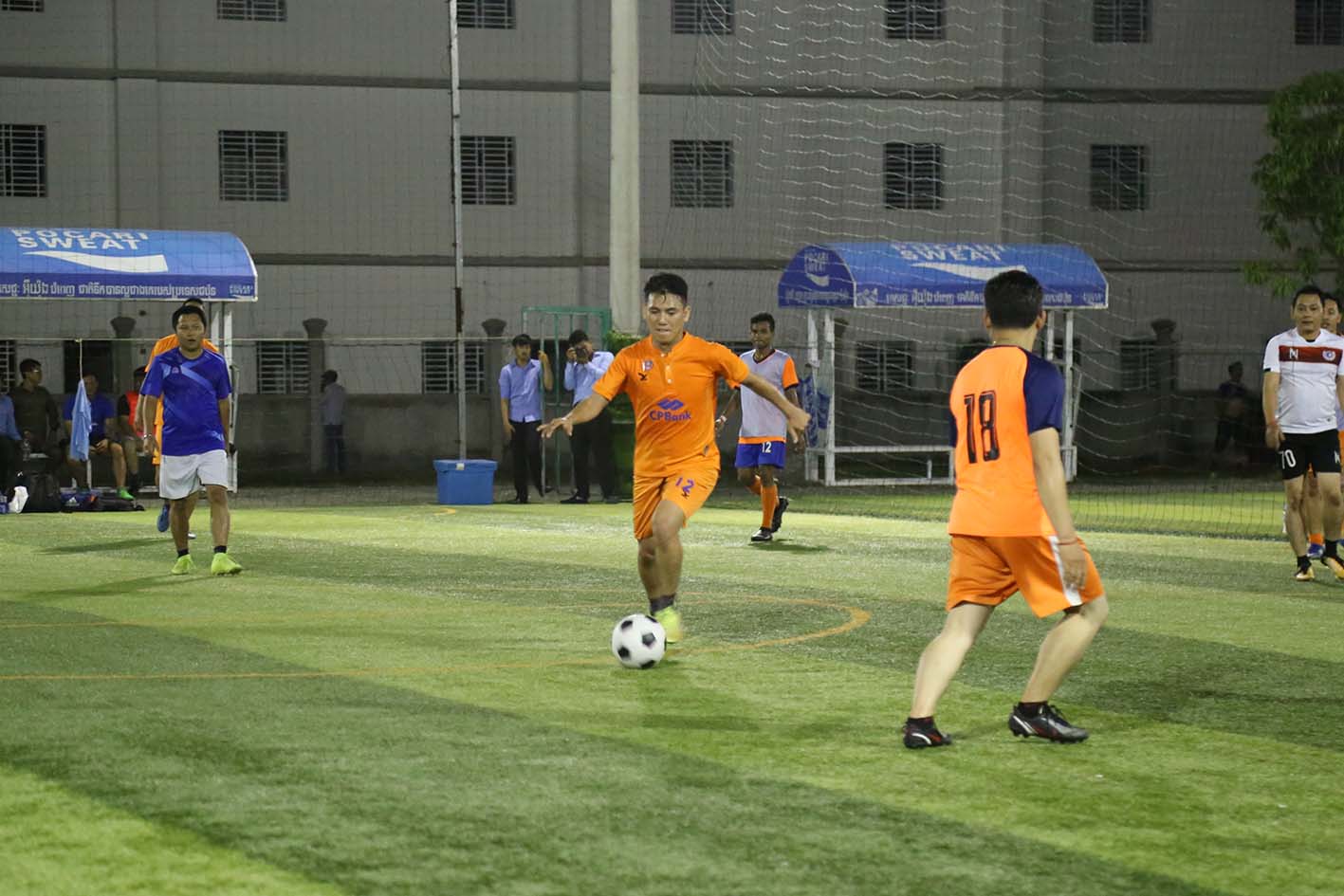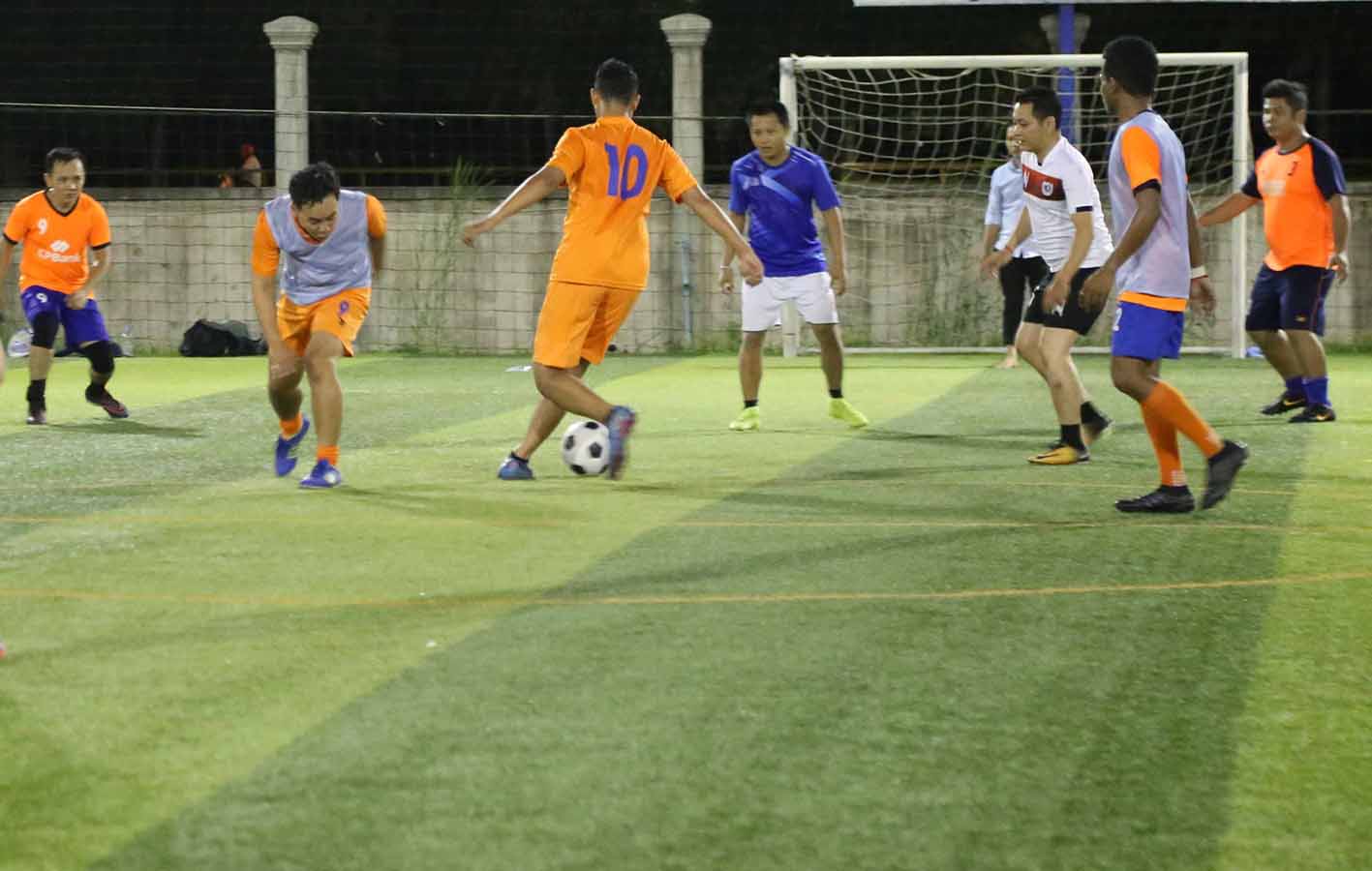 Water Festival is a Traditional Festival of Khmer customs that remains of ancient longevity for the next generations. Nowadays, the Water Festival is celebrated every year and is considered one of the major among other national cultural festivals.
Also in Battambang Province will celebrate on 12-13 October 2019 recently, with the boat racing at Steung Sangkae, Battambang City. The committee will select the winner to attend the national final racing in Phnom Penh city.
On this occasion, CPBank Battambang Provincial Branch is honored to collaborate with Battambang City hall to celebrate Water Festival by sponsor 100 T-shirts and environment bags to Battambang city hall for supporting of boat team.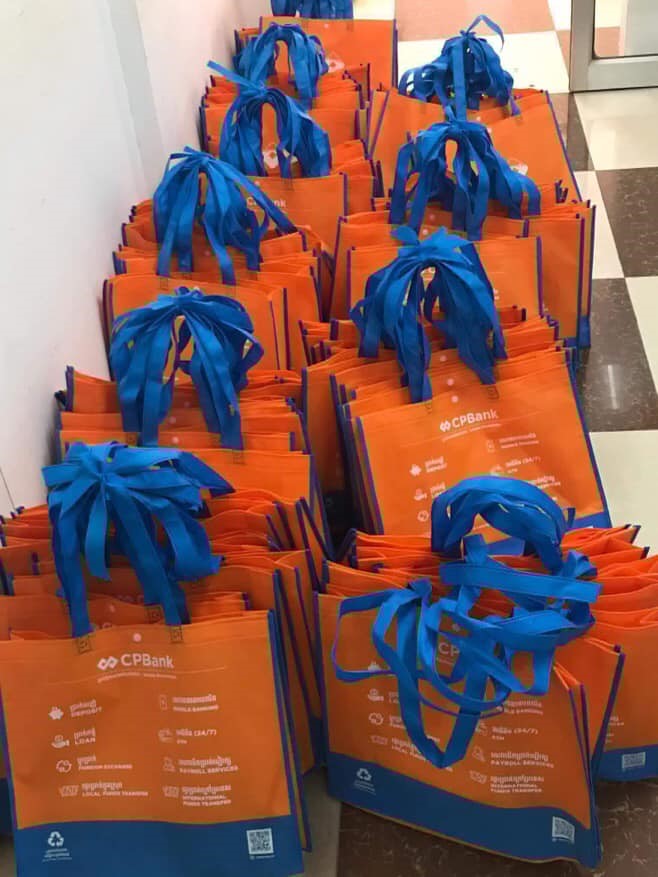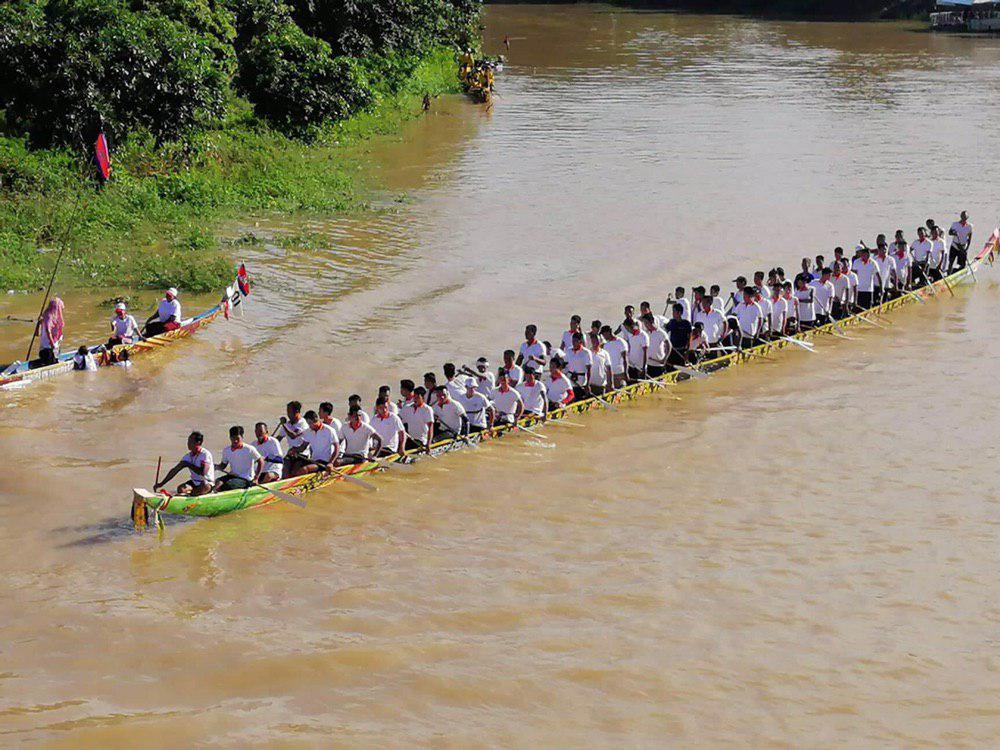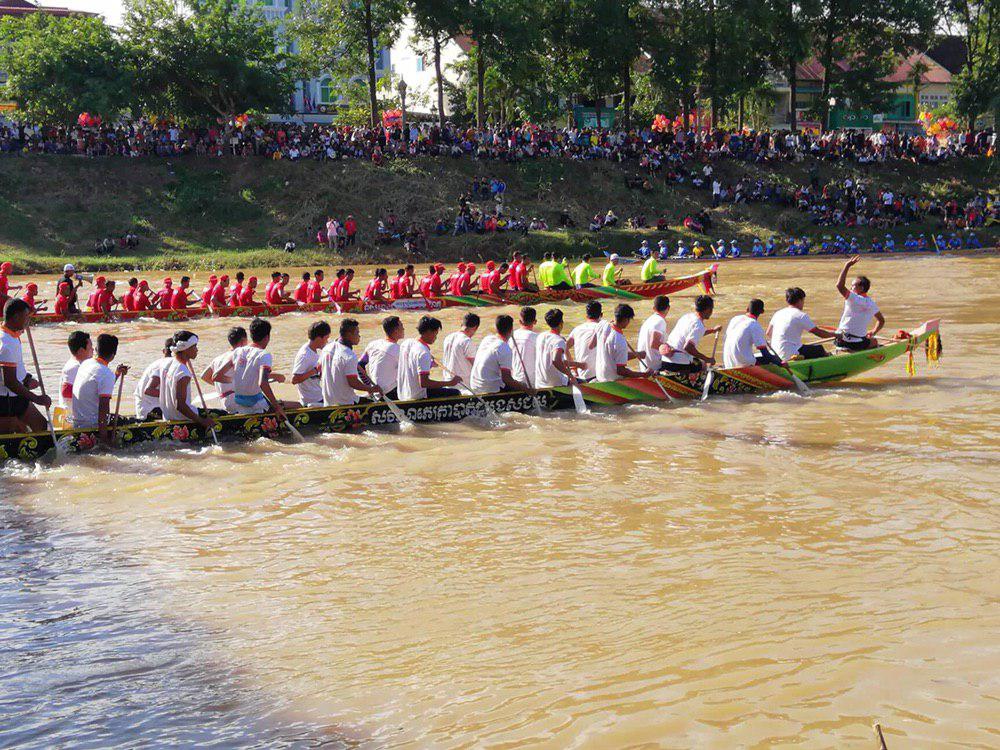 As a bank under the control and leadership of the National Bank of Cambodia, CPBank celebrates the National Bank of Cambodia Marks 40th Anniversary of Its Reestablishment (October 10, 1979 – October 10, 2019).
40 years of promoting trust and stability in the banking system
40 years of banking, development, and modernization
40 years of regulatory superiority
Khmer Riel – Khmer Identity (Proud to be Khmer)
We Believe in Our People and Inspire Our People in Belief of Our Culture – "Do The Best Today for Being a Leader Tomorrow."
Our people are our most valuable asset. Nothing we do is more important than
attracting, inspiring, and retaining talents to create long-term value for our customers, our shareholders and our communities.
We recognize the importance of each individual's contribution to the value we created, and place the considerable emphasis on attracting and empowering the best people to make these contributions. We attract people not just only their talents, but who embody the value of encouraging conviction and commitment.
The investment in skills and accelerating employee's professional and personal development are the essential components of the Bank's people agenda. Acknowledging an employee's performance and development as well as their personal contribution to overall CPBank's success is key that's why we always prioritize people's promotion within the Bank. We always recommended any employee who been performed well and demonstrated the Bank's value at all times and always contributed to the success of the Bank's objectives the prizes, especially an opportunity for promotion to a higher role within the Bank.
With this culture, most of our people appreciate and believe that if they do the best today, they will have an opportunity of becoming a leader
tomorrow (in the future)!
You have earned the trust, admiration and respect of your colleagues with your honesty, sincerity, best leadership and commitment towards work. Every individual in CPBank looks up to you. Thank you for being the perfect role model. We appreciate and recognize all you have done!
Within 5 years of operation, we are well recognized in the financial industry in Cambodia as being the 5th Bank in terms of branch network with modest sustainable growth among the Commercial Banks.
Under the strategic partnership among Canadia Investment Holding, Fullerton Financial Holdings and Cambodia Post of Ministry of Post and telecommunication, we are very privileged to leverage the expertise from the best practice in the region and customized that into local context to fit with the need of our customers.
The Bank has expanded the branch network to 45 by the end of 2018, which can be considered as the highest growth in terms of network expanding where the Bank has followed the best practice for operational risk management and independent risk function especially Credit underwriting. We have managed our operational risk well without any significant operational lost so far. Bank also follows the three lines of defense for its risk management where Audit is the third line of defense who are completely independent and directly reports to the board committee. Although Audit is capable enough to identify, monitor and mitigate the overall risk of the Bank, we are continuously enhancing the first and second lines to manage it better.
Advance bank technologies are always our strategic priority and we want to be at the forefront of digitization. We have our Core Banking System, ATM and Mobile Banking from the early stage and we are also the pioneer member of the FAST Payment System and Cambodia Shared Switch. Credit Score Card, Loan Origination System, and Collection Management  System are under deployment which will enhance our operational capabilities to provide better customer experience.
We will also launch Credit Card with VISA in early 2019 which will be convenient for our customers for their lifestyle needs. Bank has acquired Funan Micro-finance in 2017 in order to deepen into the market by utilizing our experience and expertise. We have already grown Funan to three folds and it's now the 3rd Micro-finance Institute (MFI) in terms of asset size in Cambodia. On the other side, Bank has created the SME
department in 2018 to serve the larger enterprises in
Cambodia.
Our human capital is fully equipped with capacity and well trained where we also provide a suitable benefit package
following the best practice of Performance-based Payment structure. We also have a clear Career development program
along with retention management plan which is well
appreciated and make CPBank as one of the best choices
the employer in the industry.
All of our financial indicators are improved compared to last year performance as below:
▪ Total revenue increases by 35%
▪ Revenue per staff increases 20%
▪ Net Profit before tax increases 64%
▪ Cost of deposit decreases (9%)
▪ Cost to income ratio decreases (10%)
We are looking forward to being one of the top 5 Commercial Banks in Cambodia by total assets and continuous enhancement
of our Best in Class Customer Service and evolving information
technology towards digitalization leveraging the expertise from our shareholders.
In the midst of financial, economic and environmental challenges, CPBank has completed yet another eventful year where we continued our journey towards digitization and growth. During the year 2018, CPBank experienced notable improvements in key fundamentals with our countrywide network of 45 branches, 40 ATMs and diversified service delivery channels. We also maintained a comfortable liquidity and capital position throughout the year. As a young commercial Bank in Cambodia, CPBank always bridging the financial gaps with innovation and technology that enable us to provide easy and convenient banking services to our customers. This convince me that CPBank is securing the place for future. As Chairman of the Bank, I would like to present the CPBank's progress in the year 2018.
You all will agree with me that banking landscape in Cambodia has changed from its previous which is in line with the age of unprecedented and disruptive change happening in the world. These changes are mostly powered by digital technology which creates lots of challenges and opportunities in this evolving
operating environment. This digital technology also democratizes the financial services and bringing incomparable convenience to our consumers at the click of a button.
As an institution CPBank is deeply rooted in Cambodia and has its responsibility towards the nation. CPBank aims to bring more digital banking services in the pursuit of technology to make banking simple, convenient and accessible while we will keep the existing brick and mortar network across the country.
We are also committed towards the environment and sustainability.
CPBank has already adopted Environment and Social Management policy for sustainability for onward implementation in 2019. CPBank has generated modest growth in portfolios along with strong profitability ratios in 2018. CPBank's consolidated total asset size stood at US$ 775 million as of 31st December 2018. The consolidated loan book of CPBank has increased by US$ 141 million (39%) and deposit from customers rose by US$ 151 million (42%). With 47% growth in consolidated operating income over 2017, CPBank's Profit before Tax stood at US$ 17.2 million registering a growth of US$ 6.5 million (61%) over 2017.
Bank's subsidiary Funan Microfinance also delivered a fantastic growth in 2018 where their loan portfolio has grown to US$ 46  million by 31st December 2018 (62% growth over 2017). Funan's net operating income also grown ~70% in 2018 where net profit increased to US$ 1.7million from its previous year's US$ 35 thousands.
As a financier CPBank always is in line with the Royal Government of Cambodia's aim to bring the finance system in Cambodia up to international standards. CPBank has kept the same focus of financing either to business or individual but to ensure enhancing economic growth which ultimately contribute to macro-economic stability. CPBank is a banking institution that always working with the vision "to be the best mass market bank that enriches
lives and fulfills the growing aspirations of the people of Cambodia and create sustainable value for shareholders, employees and society".
The Cambodian economy has expanded rapidly. Macroeconomic and financial stability remain resilient despite some challenges. Garment, Construction and tourism sectors continue to grow double digit rate given the favorable economic growth and the support of expansionary fiscal policy, proper monetary policy and positive development in banking and many other sectors. Despite US-China trade tensions and monetary policy normalization in some advanced countries, global and regional economies have continued to expand and provide good opportunities for Cambodia. Foreign direct investment inflows continued to increase at a robust rate (12%), particularly in Banking, real estate and garment sectors. The foreign reserves are projected to increase to US$ $11.3 billion which is equivalent to 5 months of imports of goods and services. Price and exchange rate have remained favorably stable at 4,050 Riel per USD. Inflation continued to be low at around 2.5% due to a slower increase in food price (2.7%). Cost of production in Cambodia
remain high due to lower economies of scale, limited infrastructure links, lack of electricity distribution network along with high cost and the increase in minimum wage, etc.
Cambodia may face with the withdrawal of "Everything but Arms" (EBA) scheme from the European Union (EU) which was announced in October 2018. Despite Cambodia has challenges  due to external and internal factors, Moody's affirmation on retained Cambodia's B2 sovereign rating with a  stable" outlook for 2019 will bring more confidence for investors in both debt and equity investment in Cambodia's market.
The Cambodia's banking system continued to grow robustly and contributed to sustainable and inclusive economic growth in tandem with the government policies. NBC has paid close attention to strengthening financial stability while financial inclusion has been promoted particularly in current situation where credit is still growing rapidly while the global financial market conditions remained uncertain. To maintain financial  stability, macro-prudential measures have been carefully implemented on banks and microfinance institutions to gradually reduce credit growth which is expected at ~17% in 2018 which was 75% in 2007, declined to 31% in 2014, to 23% in 2016 and 21% in 2017 and financial inclusion will continuously grow, boosting economic activity and reducing the poverty rate.
It is indeed a great privilege to lead this growing Bank and to help drive Cambodia's economic growth and development.  I am grateful to all the regulatory agencies of the Government, in particular the National Bank of Cambodia, General Department of Taxation, Ministry of Economy and Finance, for all of their continued support. I would also like to take this opportunity to thank the members of the Board of Directors for their valuable guidance and support to the Bank.
I also want to look back on 2018 with gratitude to all our clients and employees and look forward to 2019 with optimism and confidence. I must affirm that the Board and management are on track towards executing Bank's strategy and focus on delivering value to our shareholders, customers and the community we are operating.