The regular banking service hour is weekday, In order to help our value customers, CPBank would like to offer additional working day from Monday-Sunday called "365 days Banking service" to make it easy and convenience for our customers. Currently, CPBank operating 365days banking services in Sen Sok Branch 7 days a week from 9:00am-7:00pm which located on 2nd floor Aeon Mall Sen Sok City.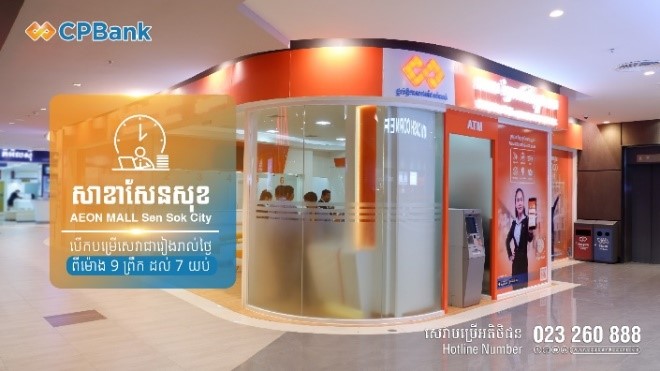 On 2nd January 2020, CPBank would like to officially announce "365 Days Banking Service" to our value customers by extra branch such as Main Branch and Olympic Branch will be operate every day Monday-Sunday including public holiday  from 8:00am- 4:30pm.
As we extend Main branch and Olympic branch will provide the best services to customers such as loans, Deposits, Current Account, Funds transfer, Exchange Rate, Mobile Banking ATM 24/7 and other services for 7days a week including Public holiday.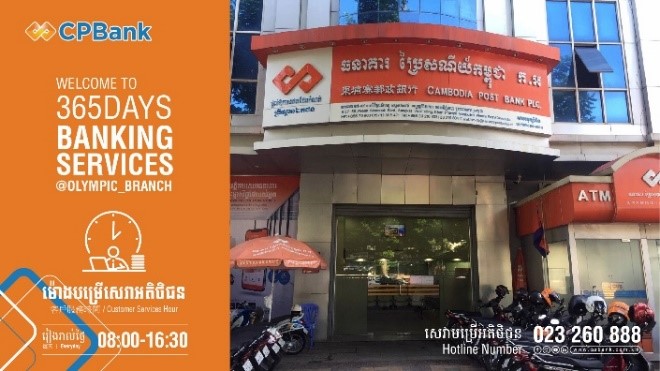 Moreover, CPBank believe that the new concept ''365days Banking service" will help   greater customer satisfaction, convenient and reliable banking service for our value customers.
For more information, please contact to: 023 260 888
Our Website: www.cambodiapostbank.com
Find us on Facebook: https://www.facebook.com/cpbankplc/
Twitter: https://twitter.com/CPBank1
Linked Page: https://www.linkedin.com/company/cp-bank-plc/
Telegram Channel: https://t.me/s/cpbankplc