Date: 28th December 2021, Tuesday
A signing ceremony is held between Cambodia Airport Investment Co., Ltd. (CAIC) represented by Mr Charles Vann, Director; and Cambodia Post Bank Plc (CPBank) represented by Mr. Toch Chaochek, CEO; presided by Neak Oknha Dr Pung Kheav Se, Chairman of Overseas Cambodian Investment Corporation Ltd. (OCIC) for the investment of US$10 Million in Techo International Airport Guaranteed Bond through private placement.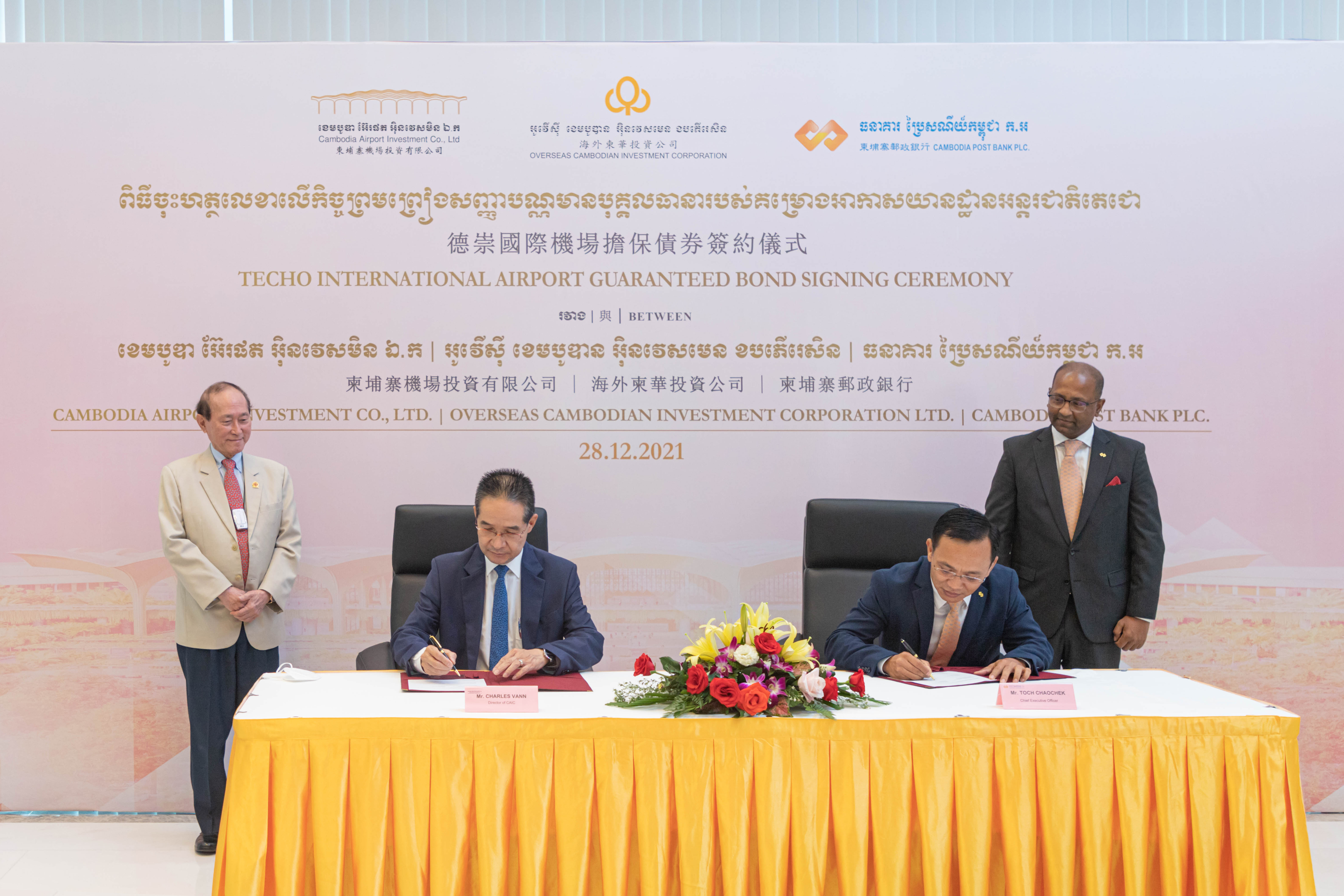 The funds raised from Techo International Airport Guaranteed Bond will be used for the construction and development of Techo International Airport in Kandal province. Techo International Airport project is currently 28% completed with a total amount of US$375 Million (excluding airport land)
already invested by CAIC.
The coupon rate of CAIC bonds is 5.5% per annum with 3 years tenor and guaranteed by OCIC.
OCIC is the largest investment group and local conglomerate in Cambodia. The company's core expertise is in infrastructure development, real estate, construction, property management, education, medical, shopping mall, hotel, rice mill, manufacturing, etc with notable projects such as Techo International Airport, Diamond Island City, Norea Island, Chroy Changvar Satellite City and
Olympia City Complex.
CAIC is a joint venture between the Royal Government of Cambodia (RGC) represented by the State Secretariat of Civil Aviation and OCIC. The RGC has granted CAIC the rights to own, design, construct, finance, operate, maintain and manage Techo International Airport Project.
CPBank is one of the leading commercial banks in Cambodia which was founded in September 2013 and is a strategic partnership among Canadia Investment Holding Plc., Cambodia Post of Ministry of Post and Telecommunications, and Fullerton Financial Holdings Pte. CPBank has developed and grown steadily over the last eight years with the vision to be the best mass‐market bank that enriches lives and fulfills the growing aspirations of the people of Cambodia and creates sustainable value for
shareholders, employees, and society.