Based on the high commitment and effort of CPBank to provide better financial services to all Cambodians, especially in order to manage their cash and payment quickly, CPBank will launch three more locations as follows:
1. Vimean Ekreach Branch
Located: #132 C, Preah Norodom Blvd, 5 Village, Sangkat Tonle Bassace, Khan Chamkamorn, Phnom Penh
Telephone: 069 600 029
Ms. Mounh Nisa | Branch Manager
2. Russey Keo Branch
National Road No 5, Sangkat Russey Keo, Khan Russey Keo, Phnom Penh
Telephone: 093 600 073
Mr. Sam Piseth| Branch Manager
3. Bueng Trabek Branch
Preah Monivong Blvd, 5 Village, Sangkat Psar Deurm Thkov, Khan Chamkamorn, Phnom Penh
Telephone: 069 600 092
Mr.Ork Sopho| Branch Manager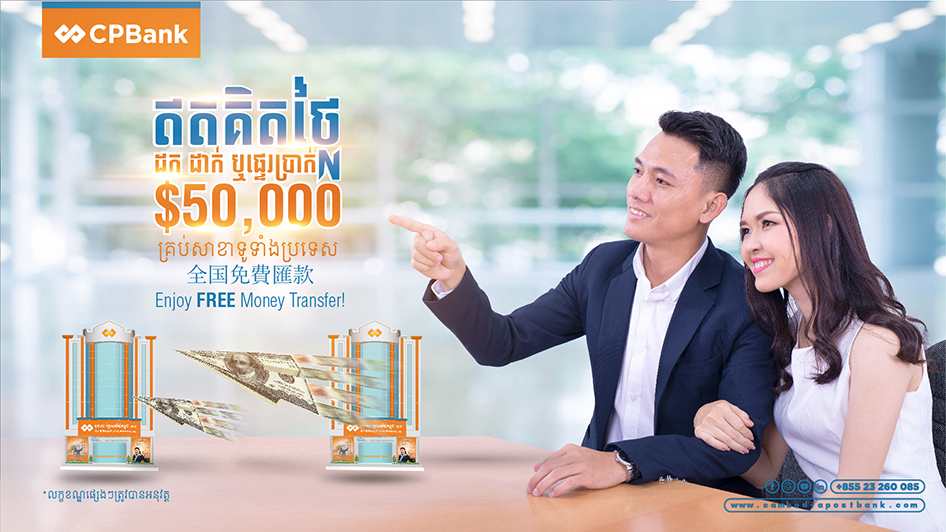 To celebrate these 3 branches, CPBank will provide one special benefit to every CPBank client. Everyone will enjoy free and convenience withdrawal, deposit and local funds transfer from branch to branch, from ATM to ATM, from Mobile Banking to Mobile.
These 3 branches will officially open on June 14, 2019 from 8am – 3:30pm on Weekend and Saturday from 8am – 11:30am. With professional staff to consult and advise about bank products and services. Customers will enjoy and convenient banking services, especially with ATM and mobile banking 24 hours a day and 7 days a week.