It's been 6 years since CPBank opened its first Main branch in Phnom Penh on September 26th, 2013, with strategic partnership between CANADIA Investment Holding Plc, (CIH), Cambodia Post (CP) Ministry of Post and Telecommunications of Cambodia Government, and Fullerton Financial Holdings Pte. (FFH). On September 26th, 2019, CPBank is the best mass market bank that enriches lives and fulfills the growing aspirations of the people of Cambodia and creates sustainable value for shareholders, employees, and society.
At present, CPBank has 01 Head Office and 50 Branches in nationwide. With 1,600 young, dynamic, creative employees has contributed to CPBank's business activities becoming more stable, growing steadily over the years, providing diverse financial products and services to customers and contribute to the development of Cambodia.
By the end of September 2019, CPBank's total assets reached 800 million USD, total deposits reached 600 million USD, and total loans reached 500 million USD and are serving nearly 80,000 customers in the area. CPBank has developed the Loan Origination System, Online Account Opening, Visa Credit Card launching, and upgrade friendly on mobile Banking Service in line with the market's modernization.
CPBank has gradually increased capital to meet new demand of customers, complying with regulations of the National Bank of Cambodia and the Bank has expanded its network to 10 branches according to the development trend and to be the best commercial bank in Cambodia.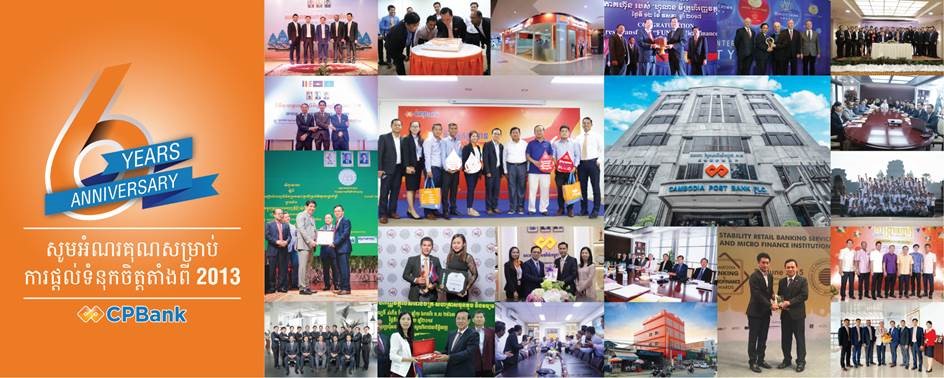 This significant growth hugely depends on support from customers and CPBank would like to thanks to the customers for all the support and trust and we strongly hope that you will continue to support products and services of CPBank.
In this occasional, CPBank offers 6.6% of Fixed Deposit to celebrate 6th Anniversary since 2013. Please visit the CPBank nearest branch to open account or visit our website for online account opening by link: https://acc.cambodiapostbank.com/ For more detail please contact 023 260 888 or Facebook page CPBank.