Message from the Chairman
NEAK OKNHA DR. PUNG KHEAVSE
Chairman of the Board of Directors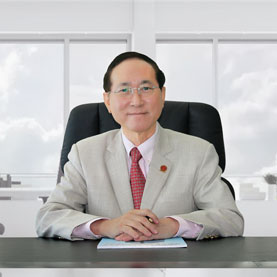 "Supporting economic growth, contributing to Cambodia's prosperity, and helping customers achieve their financial goals "
The Bank's vision – enriches lives and fulfills the growing aspirations of the people of Cambodia – conveys our fundamental optimism and the role we play in supporting economic growth, contributing to Cambodia's prosperity, and helping customers achieve their financial goals. The year 2022 has seen further challenges and uncertainty for all of us like any other persons in the world as we start to learn to live with Covid'19 as a new normal. During 2022, the country has also experienced floods across the provinces resulting in significant financial and social impacts to many people. As we confronted with all these problems, we have realized that we are an integral part of this community and as a Bank we always stand by our customers to sail through the problems together for greater economic prosperity.
The world is facing dangerous crises that are hammering developing countries, hitting the poor and vulnerable, and worsening global inequality. Supply chain disruption due to strict lockdown measure in China, war in Ukraine, large macroeconomic imbalances, and shortages of energy, fertilizer, and food have caused the sharpest global economic downturn in 80 years, that pushes the inflation to a record time high. The outlook for the year ahead is mixed. A strong economic recovery and historically low unemployment has been tempered by the rising cost of living, higher energy prices and supply chain pressures across a broad range of goods and services. However, our favorable domestic conditions coupled with an increasing external demand have accelerated Cambodia's economic growth to 5.1% in 2022.
The increase in foreign direct investment and export have kept the Cambodia's international reserve contained to cover for about 7 months of prospective imports of goods and services. This also has supported the implementation of monetary and exchange rate policies especially in stabilizing exchange rate and providing sufficient liquidity to maintain price stability and sustain economic growth.
Despite this economic challenges, Banking credit growth and quality were stable over the period. My sincere thanks to the Royal Government of Cambodia and National Bank of Cambodia who has always been pro-active and played a pivotal role to keep the stability and resilience in the banking system by taking various preemptive and prudential measures throughout the period. This continued pandemic not only kept us in turbulence but also accelerate the innovation towards digital service delivery for our customers. This trend we have observed across the industry in Cambodia.
We have observed remarkable growth on our digital channels during the year 2022 where overall digital transaction increased by 72% in number and 141% in amount. We have also upgraded our core Banking system to set ourselves with strong base to carry out all the digitization journey and to support our strong commitment for greater financial inclusion across the country. In 2021, Bakong operated 8.16 million transactions (80% in USD) with a USD transaction volume of USD 2.89 billion, an 8,200% increased from 2020. NBC's KHQR has been widely adopted in 2022, facilitating cross-bank payment easier and convenient.
I am happy that CPBank has maintained a balance sheet of US$1.2B asset where our loan portfolio grew moderately 16.8% and US$ 20M net profit for the year 2022. CPBank have increased the nationwide 324 ATMs including Cash Deposit Machines to ensure a greater access for our customers through various partnership. We have efficiently managed to maintain a comfortable liquidity and capital position throughout the year. Bank's subsidiary Funan Microfinance also managed the profitability very well during 2022. Bank also enhanced the partnership with other financial Institutions like AMK, Amret to expand the outreach and make it convenient for the customers to pay their monthly repayment without visiting any Bank branches.
I have seen a greater adoption of Loan origination system of CP Bank which not only improved the turnaround time but also helped Bank on their commitments towards the greener environment and overall sustainability. The Bank has achieved another milestone in 2022 by upgrading its core Banking system which will enhance Bank's overall capability to provide better customer experience. I am glad that the senior management team worked relentlessly to improve overall customer experience and their commitment throughout the period. 
I would like to extend my gratitude to all our shareholders for their continued trust, Board Members for their experienced guidance to the Management Team. I am also thankful to the Royal Government of Cambodia, regulatory bodies especially National Bank of Cambodia, General Department of Taxation, Ministry of Economy and Finance, Ministry of Health for all of their support. I am very grateful to each and every customer of the bank for their continued trust and support. I am hopeful that we will be here to contribute to build the Nation for its overall economic prosperity as the Country of fastest growing economy.