Message from the Chairman
NEAK UKNHA DR. PUNG KHEAVSE
Chairman of the Board of Directors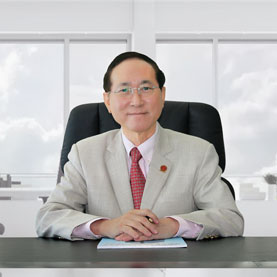 The economy of Cambodia has sustained an average annual growth rate of 7.7% from 1998 to 2019, making it one of the fastest-growing economies in the world. The Kingdom's GDP in 2019 reached an all-time high of USD 27.09 billion. The services sector accounted for 38.9% of the GDP, industry for 34.2% and agriculture for 20.7%. The country has attained Lower Middle-Income (LMI) status in 2015 according to the World Bank's classification and aims to recover from COVID-19 and become an upper-middle-income country by 2030. The economy was significantly impacted by COVID-19 pandemic in 2020; economic growth fell to -3.1% but according to the Asian Development Bank (ADB), the World Bank (WB) and the Ministry of Economy and Finance (MEF), Cambodia's economic growth for 2021 rebounded into positive territory, with projections between 2.2% to 3%. 2022 economic growth is projected to be between 4.5% to 5.5%. According to the National Bank of Cambodia, GDP per capita will be upgraded to $1,842 in 2022, a 6.4 percent increase compared to 2021.
We all faced the global health crisis caused by Covid'19 over the last two years which has impacted our economy hardly. Despite this economic downturn, the inflation rate, Banking credit growth and quality were stable over this period. My sincere thanks to the Royal Government of Cambodia and National Bank of Cambodia who has played a pivotal role to keep the price stability and resilience in the banking system in stable position by taking various preemptive and prudential measures throughout the year 2021. I believe, this continued pandemic not only created uncertainty but also provided us the opportunity to be innovative to serve our customers in a better way. We have seen a large number of digital transformations happened across the industry in Cambodia and CP Bank is not an exception to that. We have observed remarkable performance on our digital channels during the year 2021 specially in ATM and Mobile Banking area where overall digital transaction increased by 72% in number and 141% in amount. We have also enhanced our online account opening platform and continuing to extend that further with e-KYC module to make this service faster and instant. These initiatives are part of our strong commitment for greater financial inclusion across the country.
It is hopeful to see that the Cambodian economy started to rebound during 2021 with various initiatives from Governments like rolling out different stimulus packages, Co-Financing Scheme from SME Bank and Guarantee scheme for SMEs form Credit Guarantee corporation of Cambodia (CGCC) for business capital financing etc. This economic rebound has stumbled till the last quarter of 2021 due to the community spread event of February 21.
CPBank maintained a balance sheet of US$1.1B asset where our loan portfolio grew 28% and US$ 13.4M net profit for the year 2021 despite the economic disruption caused by the pandemic. CPBank have increased the nationwide ATMs to 89 including the 5 Cash Deposit Machines to ensure a greater access for our customers. We have efficiently managed to maintain a comfortable liquidity and capital position throughout the year. Bank's subsidiary Funan Microfinance also managed the profitability very well during 2021 with their managed growth on their loan portfolio. Bank also enhanced the partnership with few service providers like True Money, EDC, PP Water supply to make it convenient for the customers to pay their monthly repayment and various utility bills without visiting any Bank branches.
I am very happy to see that Loan origination system of CP Bank made the whole on-boarding journey very simple for customers which are now used in all branches across Cambodia. This digital on-boarding process not only improved the turnaround time but also saved lot of paper based processing in the Bank. This is one of our another commitments towards the greener environment and overall sustainability. The Bank has achieved another milestone in 2021 by introducing Security Incident and Event Management (SIEM) system in order to keep Banks digital environment safe for our customers. Bank also started to upgrade its core Banking system in 2021 and expected to go live in 2022. This will enhance Bank's capability to provide seamless customer experience over various delivery channels. I am glad that the senior management team worked relentlessly to keep our business environment safe during the whole period both for our customer and staff.
I would like to extend my gratitude to all our shareholders for their continued trust, Board Members for their experienced guidance to the Management Team to sail through this difficult time. I am also thankful to the Royal Government of Cambodia, regulatory bodies especially National Bank of Cambodia, General Department of Taxation, Ministry of Economy and Finance, Ministry of Health for all of their support and on-time intervention for overall financial stability. With the responsiveness and continuous agility of our people, and the trust of our customers, we could able to come out from this storm as stronger than ever. I am very grateful to each and every customer of the bank for their unwavering trust and support.
Finally, I also extend our heartfelt gratitude to all front-liners and emergency responders at the various sectors, who selflessly put themselves and their families at risk through their vocation for beavering through this difficult time as a Nation. I am hopeful that we will emerge again as the Country of fastest growing economy and we will see the prosperous Cambodia soon.