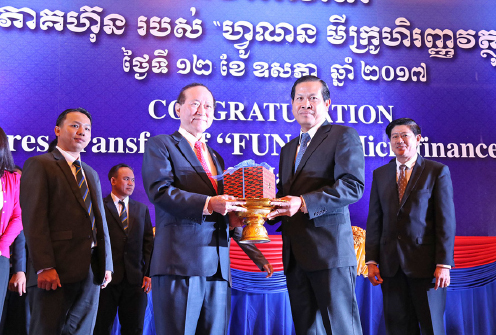 FUNAN Microfinance is the fully subsidiary of Cambodia Post Bank plc. Funan has been acquired in the year 2017 and the official share transfer was on 12th May, 2017. Through this acquisition of Funan in 2017, CPB expanded into the microfinance space in order to serve a wider spectrum of customers.
As of 2022, FUNAN's total asset was USD 83.91 million with loan portfolio of USD79 million. FUNAN is serving across the country in all potential areas of Cambodia through its 51 branches network countrywide. The value proposition of FUNAN Microfinance is to complement the Mass Market segment of the parent company (CPBank), providing financial services to the lower income group of population of both salaried and Self-Employed Mass Market especially in the rural areas where it is challenging for the Bank to cover.
FUNAN is committed to achieving its long-term Vision—to be the best Microfinance institution (MFI) that enable success and enriches lives of Cambodian people—and its Mission—to provide innovative financial products and services, that are simple, convenient, and fast; and comply with regulations.