STATEMENT FROM CHIEF EXECUTIVE OFFICER
Mr. Toch Chaochek
Chief Executive Officer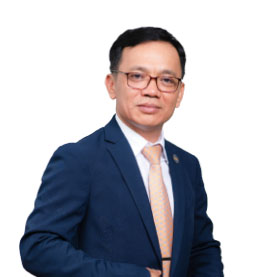 We have started the year 2021 with lots of optimism and expectations that it would be better than the previous year. However, community spread of Covid'19 during February 21 has stalled that optimism to some extent although we have seen a recovery across the business sectors at the end of 2021. With declining global demand, subdued commodity prices, supply chain disruptions, weaker domestic demand and labor market dislocation, the Royal Government and National Bank of Cambodia worked together to mitigate the impact with the roll out of various economic stimulus packages during 2021 that includes the restructuring guideline to curb the impacted business sectors need, releasing liquidity through reduced reserve requirement, Credit Guarantee program, SME co-financing Scheme through SME Bank to provide assistance to the affected individuals and  businesses.
In 2021, Covid-19 thrashed the global economy further and we have seen its toll on human life in Cambodia. During the period where time and resources were channeled towards managing a transition to the new normal, we accelerated ahead with our digital initiatives towards becoming the bank of our customer's choice. This pandemic not only provided us the strength to deal with uncertainty but also enabled us to accelerate our digital journey. We have done many unconventional things which we would not even think under regular circumstances. We have adopted hybrid working model, conducted virtual business meetings and online training to keep our bank ready to manage any situation throughout the period to stand beside our customers at all times.
As a bank with vision to be the best mass market bank that enriches lives and fulfills the growing aspirations of the people of Cambodia and create sustainable value for shareholders, employees and society, CPBank has assumed a crucial role in assisting the government driven socio-economic recovery efforts with a spirit of alliance through Associations of Bankers in Cambodia. I want to extend our gratitude to our regulators specially the National Bank of Cambodia for taking such initiative to drive various economic stimulus that really helped the businesses during this difficult time and kept the economy stable.
I'm privileged to continue to navigate the Bank and achieve the sustainable growth to serve the Cambodian market. I am happy to share that, despite the continued pandemic, we have performed well in 2021 with our rebuilding effort. We have strengthened our various digital on boarding capability and our customers has started getting benefit from that. Our online account opening, digital loan origination system has put ourselves ahead in the curve of customer convenience. We put greater importance on the cyber security to ensure safe operating and service environment for our customers in this digital era. As such, we have introduced Security Incident and Event management (SIEM) system in 2021 with 24/7 security operating Center to ensure any cyber threat management in our Bank, so that our customer can use any banking services with the peace in mind.
We will continue to operate as a responsible and compliant bank for the wider benefit of our customers, society in general, and for the planet as a whole. We have also planned for introducing Anti Money Laundering system and upgrade our core Banking system in 2022 which will enhance our capability and improve the compliance management in line with the NBC's initiatives of improving compliance and overall governance in Banking system.
The Bank has expanded the branch network to 60, ATM network to 89 by the end of 2021, which provides the doorsteps access for our customers nationwide. We have brought various new bill payment options like EDC, PP Water Supply, Waste Collection Bill in our mobile Banking services with some new features to serve our customers better. We have also increased our alternate channels through various partnership with 3rd party service providers like True Money which has expanded our service access to a great extent. Our subsidiary Funan Microfinance has also grown modestly and adopted similar approach in 2021.
In 2021, our total asset grown by 10% year on year to US$ 1.18Billion where our loan portfolio grown by 28% to US$ 886Million. We have achieved net profit of US$ 21 Million in 2021. We have also achieved more than 50% growth on our account base and we are striving to our goal to be one of the top 5 Commercial Banks and market leader in the MSME segment in Cambodia.
Based on our learning through this difficult time we have emerged as resilient and stronger. This is the result of the overall dedication of all our responsible employees who always put them in forefront to serve the customer despite knowing the risk of infection. I want to thank everyone at CPBank for doing their very best and also our Board & Shareholders for their continued support with guidance to navigate through this uncertain times of financial, social and mental stress. I also want to extend my sincere gratitude to all regulatory bodies for enabling us with timely initiatives to carry out our responsibilities in a confident manner for overall economic stability in Cambodia. As a Bank, we are here to stay and serve you with better convenience than ever before through our best in class innovative financial services. Appreciate your unshakeable trust with CPBank and we look forward to provide our continued service experience to you.